Nadia Jamil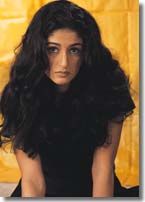 An actress par excellence. A thespian. But these are just two facets of Nadia Jameel. There's a lot more to her than that. She's not Insecure about revealing her weaknesses, for she's not striving to be perfect always. She believes that you discover new things in life, you learn from them and move on. There's no point in holding on to the past. This Is what I call focus, when you have set your heart to what you want. She has chosen life as her mentor, a smart choice Indeed, as it offers a whirlpool of experiences to learn from. Simple Mehreen Jabbar had offered me a long play prior to that, 'Shaam say pehle' but at that time I was busy with 'Jaanay Anjaanay' so I couldn't do that. And when she approached me for 'Pulti Ghar' again, I made sure to give up every thing and came to Karachi right away. My character in Pulti Ghar was quite powerful, the women in it was most unlike an average Pakistani women. Then Sajid Hassan, Yasir Nawaz and Sadia Saeed were incredible to work with.
Mehreen has been a very important milestone of my life. Though our families know each other and on my return from UK, my mother insisted that I meet her after she has seriously taken up direction. Honestly, I wasn't too keen on it and kept delaying it on one pretext or the other but eventually we did meet. And there has been no looking back for me ever since. She is the one person who has given a focus and direction to my life. Because of her I have came across so many other people who are putting in their heart and soul in this field.Doing Jaanay Anjaanay was a learning experience, I learnt the mistakes that I must not commit again in my career. I feel my performance in it was quite direction less too. Actually I got so excited about the place and the people that I didn't concentrate on developing the role, and it failed to make any impact. And I couldn't relate to it at all. It was just any other stereotyped roles that we keep seeing on our television. However, the transformation that I like playing.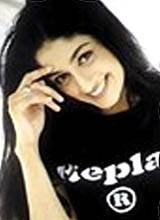 I thought that acting was all about me, Nadia Jamil. My voice, my make up, my role. And I was just so tired of my own self that I didn't work hard in the beginning. I feel it's just the opposite now. Every time that I appear on the screen, I am not Nadia jamil. Do you realize that I am paid for not being me? So acting is a relief from distancing myself from me. This way I can explore and experience so many emotions and feelings that otherwise would just remain bottled up inside me. That's why I think acting is a therapeutic exercise. I have been lucky enough to work with people like Madiha Gauhar, Shoaib Hashmi, Naved Shahzad, Samina Ahmed from whom I have learnt so much. Had it not been for them I wouldn't have been able to sustain myself in this field. My career has followed an interesting route, every time that my interest in acting takes a plunge, I came across somebody who renews my love for acting. Like while shooting for a long play,'Dua' I met Rana Sheikh, she is such a talented lady with zest for her work. She made a powerful impression on me. Same is the case with Ahsan Taalish, son of late Agha Talish Sahib. He assisted Samina pirzada in Inteha. I have worked with him in, 'Number 26' and he is the one director that I know I would love working with. He is so very talented, dedicated, and will surely go places. I have great hopes from him.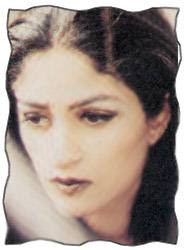 Growth is a continuous process, you learn throughout your life. I am the kind of person who draws my energy from different sources around me. I am definitely selective of the kind of people I meet, because I don't want to exhaust the positive energies within me. As for performances, initially I was less secure about my TV performances, and my relationship with the camera was not as strong as I would have wanted but now I am beginning to settle down. Like my recent project, 'Dua' I have actually worked hard at my character and have dragged it from the inside. As for theater, the more I do it, the more comfortable I tend to be of the audience with the idea of a live performance. None of them. At times, in an attempt to bring out roles, you have to push yourself back, which is really tough. Eventually a character tends to be influenced with the real you. And avoiding that is quite tough. This is where my theater exercises and workshop come to my assistance. In my opinion a versatile actor is one who is comfortable with all sorts of roles, and his own personality doesn't get affected in the process. They don't have a problem with that. The best aspect of my family is that they have instilled a sense of freedom in me of choices that I make in life. I am certain that whatever I decided to do in life, they won't object to it, and will accept my decision. This confidence guard me in taking a step that would be detrimental to them. As a teenager used to seek the approval of people around me for all my actions. It just showed how uncomfortable I was with me. Not any more. I have made myself accept the fact that the only person who can do anything about myself is me, no one else.
Acting is very temporary phase, one has to move on if one wants to grow and evolve. I am never keen about imagining what the future is going to be for what I know I might not be here to see tomorrow. But direction and writing is where I could derive a lot of satisfaction. In fact, these days I am working on the story of a play. I might direct it with Mehreen but nothing is certain at the moment. Then I intend to assist Ahsan Talish for a series of mystery plays that he intends to do in future.